Disability Bathrooms
Disability Bathrooms hired by Sydney Bathroom Hire are for people with a disability. These bathrooms are spacious inside and come with a standard dual flushing toilet, a shower with a mixer tap and an adjustable shower rose. The bathroom also comes with internal LED lighting. The Disability bathrooms also come with an exhaust fan. The 50lt electric hot water system supplied with this Disability Access Bathroom is tempered to 45 degrees Celsius to suit the standard of disability and aged care regulations. A video of such can be provided at your request.
The door opening size to the Disabled Access Portable Bathroom is 900mm and the door opens outwards. The door has a self-closing door closer and a privacy lock. There are grab rails throughout the bathroom. The small sink is hot & cold water.
The Portable Disabled Access Bathroom sits hard on the ground with a 15mm lip to negotiate from the outside ground to the inside of the bathroom.
If you have any questions in regards to this product please call us on 0418 961 704 or email us directly brad@sydneybathroomhire.com.au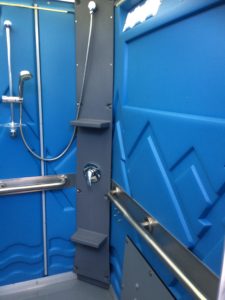 Shower in corner with flick mixer and adjustable shower rail.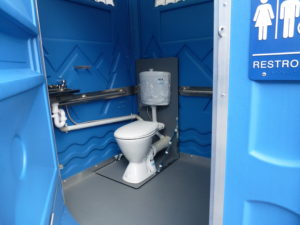 Large main door of the bathroom open showing the toilet.